Raymond Charles "Chuck" Crabb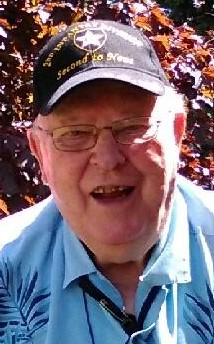 On Friday, July 24, 2020, Raymond Charles "Chuck" Crabb left this earth and awoke in the arms of his Lord and Savior, Jesus Christ. Chuck was born at home in Swaledale, Iowa on February 21, 1929, the third son of Harry and Marie (Fernau) Crabb. The family moved to Hampton and then Chapin, Iowa where Chuck graduated from Chapin High School in 1947.
  He enlisted in the Army in 1948, and was stationed at Ft. Lewis, Washington, with tours of duty to Alaska, the Aleutian Islands, and the Hawaiian Islands. While at Ft. Lewis, he met the love of his life, his wife, Joyce. When he was discharged and went back to Iowa, he sent her a diamond ring and a bus ticket to Iowa, and they were married on July 2, 1950 at his parents' home in Chapin. To this lifelong union 3 children were born: Laura Crabb Deam, Wayne Crabb and Lynne Crabb Lovetinsky.
  In 1951 Chuck began working for the Farmer's Cooperative Elevator in Chapin, and was promoted to Manager in 1954, a position he held for 30 years until his retirement in 1984. He then worked part time for the Soil Conservation Office in Hampton, fully retiring in 1991. Chuck and Joyce raised their family in Chapin and lived there until 1989 when they moved to Hampton, Iowa.
  After their move to Hampton, Chuck was very active in volunteer service to several organizations. He served on the Hampton Public Library Board, the Care Board for the Hampton Nursing Home, and was an active member of the local American Legion chapter. He arranged and participated in countless Honor Guard military funeral honors and was the Chaplin of the National Second Division Organization for several years. Chuck was a member of Faith Baptist Church, and the Hampton Senior Center.
  One of Chuck's favorite hobbies was dancing with his wife, Joyce, and watching them dancing together was truly poetry in motion. He was a voracious reader in his later years, and enjoyed spending time with his children, grandchildren, great grandchildren, and great great grandchildren. But above all else, Chuck enjoyed visiting with everyone he ran into, be they friends or strangers. He was quick to tell a joke and laughed easily and often. He enjoyed all his good friends at the Hampton Senior Center, and especially enjoyed playing cribbage there on Tuesday afternoons.
  He is survived by his children, Laura (Butch) Deam of Hampton, Wayne Crabb of Hampton, and Lynne (Russell) Lovetinsky of Iowa City, his honorary daughter, Andrea Kazemba of Hampton, his grandchildren Danielle Deam (Bob Miller), Chris (Carrie) Deam, Angie (Jody) Roades and Holly (Matt) Stoychoff. Also surviving are great-grandchildren Stacia, Levi (Stephanie), Danica, Anna, Carlee, Emily, Maggie, Sam, Caleb, Eliana, Ruth, Mayla, Jonny, and Shelby, and 3 great great-grandchildren Noah, Gracelynn and Kennick.
He also is survived by two sisters, Ruth Skillen of Clear Lake, and Jean Crawford of Hampton, as well as numerous nieces and nephews.
  Chuck was preceded in death by his wife of 68 years, Joyce (Kerr) Crabb, parents Harry and Marie Crabb, brothers William Crabb and Dell Crabb, and sister Pearl Veltoff.
    Funeral services will be held at 10:00 a.m., Tuesday, August 4, 2020, at Faith Baptist Church in Hampton.  Visitation will be held from 4:00 p.m. to 7:00 p.m., Monday, August 3, 2020, at Faith Baptist Church in Hampton.  Burial will take place at Wayside Cemetery in Chapin.  The Sietsema Vogel Funeral Home of Hampton is assisting Chuck's family.
  Memorial contributions may be directed to Chuck's family.
Category:
Sheffield Press & Pioneer Enterprise
The Sheffield Press
305 Gilman Street
PO Box 36
Sheffield, IA 50475
Phone:  641-456-2585
The Pioneer Enterprise
PO Box 302
Rockwell, IA 50469
Phone:  641.456.2585
Mid-America Publishing
This newspaper is part of the Mid-America Publishing Family. Please visit www.midampublishing.com for more information.